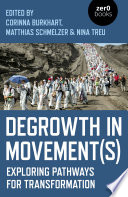 Schmelzer, Matthias; Burkhart, Corinna; Treu, Nina (Ed.) (2020): Degrowth in Movement(s). Exploring pathways for transformation. London: Zero Books.
Degrowth is an emerging social movement that overlaps with proposals for systemic change such as anti-globalization and climate justice, commons and transition towns, basic income and Buen Vivir. Degrowth in Movement(s) reflects on the current situation of social movements aiming at overcoming capitalism, industrialism and domination. The essays ask: What is the key idea of the respective movement? Who is active? What is the relation with the degrowth movement? What can the degrowth movement learn from these other movements and the other way around? Which common proposals, but also which contradictions, oppositions and tensions exist? And what alliances could be possible for broader systemic transformations?
https://www.johnhuntpublishing.com/zer0-books/our-books/degrowth-movements
---
What readers said about this book
"Moving beyond the growth economy needs a movement of movements. This is an excellent anthology, establishing a much needed dialogue between the different groups struggling for a good life for all within planetary limits" – Giorgos Kallis, author of Degrowth and co-editor of Degrowth: A Vocabulary for a New Era
"As many struggle to imagine worlds shaped by desires other than economic growth, this collection shows that multiform pathways are possible, and already in practice. The pluriversal approach supports readers to learn with wildly diverse initiatives and ideas" – Susan Paulson, editor of Degrowth: Culture, Power and Change
"This is a powerfully important topic to engage. Physics and chemistry are indicating that we're going to have to inhabit this planet differently – here are some ideas on how we might do that." – Bill McKibben, author and activist with 350.org
---
Reviews
Brototi Roy | antipode online | June 2020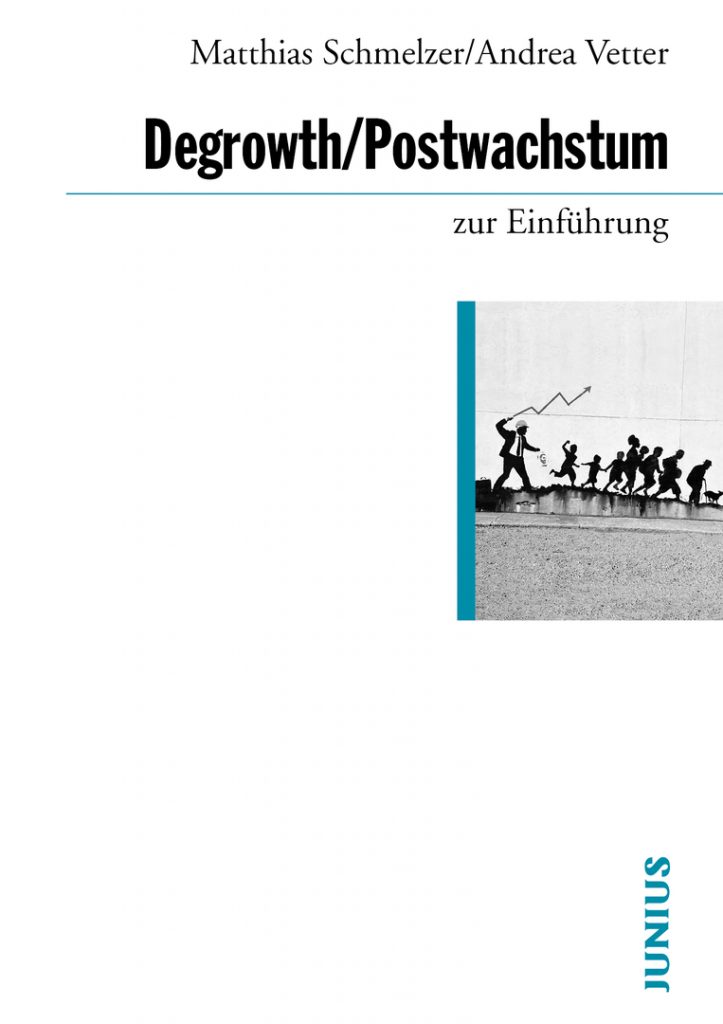 Schmelzer, Matthias; Vetter, Andrea (2019): Degrowth/Postwachstum zur Einführung. Hamburg: Junius-Verlag.
Degrowth or post-growth is a dynamic field of research and the point of reference for diverse social-ecological movements. Post-growth is not just a fundamental citique of the hegemony of economic growth. It is also a vision for another society that, in the face of climate change and global inequality, outlines paths for fundamental societal change. With this volume, a first attempt at a systematic introduction is made. In this publication the history of growth and economic statistics are discussed and the main forms of critiques of the paradigm of economic growth are reconstructed: ecological, social, cultural, capitalism, feminist, industrialism as well as south-north critiques. The reader gets an overview of the most important suggestions, concepts and practices, which are also related to political classifications.
Matthias Schmelzer/Andrea Vetter, 256 S., € 15,90
What readers said about this book
»Souverän, aber bündig, breit gefächert, aber nuanciert – eine solche Einführung in das Postwachstumsdenken hat gefehlt! Konkrete Utopien haben ihre heimlichen Schlüsselwörter: Obergrenze und selektives Wachstum, Gemeinwohl und Solidarität, Commons und Konvivalität. Es ist an der Zeit, sie auszuprobieren und einzuüben, bevor sie unversehens in aller Munde sind!«
Wolfgang Sachs, Herausgeber des Development Dictionary. A Guide to Knowledge as Power
»Kompakt, sorgfältig, inspirierend. Degrowth/Postwachstum zur Einführung bietet sowohl einen spannenden und differenzierten Einstieg für Anfänger_innen, als auch eine systematische, tiefgreifende und kritische Analyse der verschiedenen Strömungen, die auch Expert_innen überraschen wird. Von Kritik und Utopie bis hin zu aktivistischen Interventionen geben die Autor_innen einen umfassenden Überblick über die internationale Degrowth-Debatte in ihren Differenzen, Widersprüchen und Potentialen für eine radikale sozial-ökologische Transformation.«
Barbara Muraca, Autorin von Gut Leben: Eine Gesellschaft jenseits des Wachstums
reviews
Bernd Hüttner | analyse & kritik | 16. September 2019
Christiane Kliemann | OXI | 19. Oktober 2019
Christina Buczko | Akademie für Gemeinwohl
Elena Kolb | iz3w | Heft 376 | Januar/Februar 2020
Felix Eckart | Soziopolis | 23. Mai 2019
Friedemann Bieber | FAZ | 26. Juli 2019
Gerrit Stegehuis | ontgroei | 11. Dezember 2019
Lukas Warning | Blog Postwachstum | 24. Januar 2020
Moritz Elliesen | Welt-Sichten | 8. Juli 2019
Raul Zelik | WOZ | 19. September 2019
Ute Scheub | Oya | Ausgabe 55 | 2019
Was ist Ökonomie | OXI | 19. November 2019