Two of our employees and prospective doctoral students did their field research in Finland and Estonia in the late summer weeks. There are two short reports here.
---
Field stay and interviews in Äänekoski, Central Finland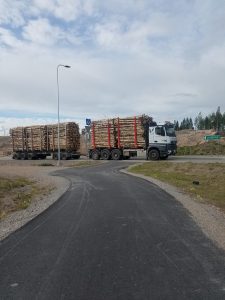 Jana Holz also traveled to Finland again in late summer 2020 for her dissertation project. For two weeks she was in Äänekoski, an industrial town in central Finland not far from the university town of Jyväskylä. As part of "flumen", she examines innovations and changes in Finnish forestry with reference to the bioeconomy and their socio-structural significance for socio-ecological transformation processes. In the second field phase, she concentrated on the town of Äänekoski and the local organic product factory of the Finnish company Metsä Group. The plant is the most modern and efficient pulp mill in the northern hemisphere and has represented a milestone in the history of Finnish forestry since the planned investment was announced in 2015. There will also be created a system of innovative smaller plants that will do research and develop various biotechnologies related to pulp. On a local level, recent developments mean investments in infrastructure, a prosperous economy outside of the Metsä company premises and confidence for the future – but also increasing pressure on regional forests, threats to their biodiversity and increased traffic from deliveries to the factory. A double-edged sword well worth exploring sociologically with a view to different social groups in the city.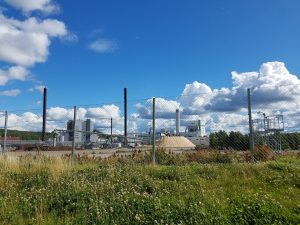 During the two weeks in Äänekoski, she was able to speak to numerous local actors from politics, business and civil society as well as local residents. The aim of the stay was to get a more precise idea of ​​how local bioeconomization, modernization and intensification of forestry are changing the socio-ecological relationships and structures as well as various usage practices and understandings of nature and forest.
---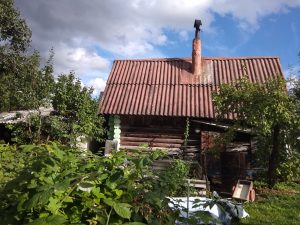 Flumen researcher Lilian Pungas was in August in Eastern Estonia and despite the Covid 19, managed to conduct numerous interviews in and around Narva and Sillamäe. In addition to her main research focus (the local subsistence farming practice), this time she also inquired about aspects such as
the impact of Covid-19 on the local population
gender aspects
Human-Nature Relations
the local oil shale sector and
the current "Just-Transition" negotiation processes
Lilian Pungas examines the subsistence agriculture of the predominantly Russian residents of Narva in their dachas. In the 90s, after the collapse of the Soviet Union, they suffered particularly from the consequences of the transformation. High unemployment and a lack of prospects led to existential fears, which the residents met by growing their own food. With regard to mentalities, the group examined shows a high degree of skepticism towards neoliberal growth imperatives. As gardeners, the residents of Narva and Sillamäe already practice aspects of the bioeconomy.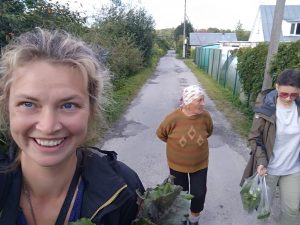 ---