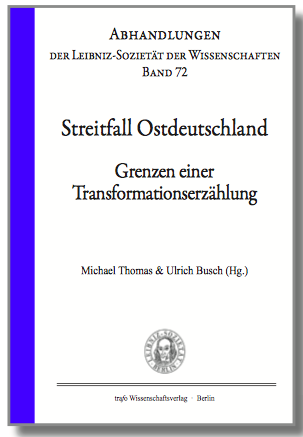 Gebauer, Jana / Jorck, Gerrit von / Pungas, Lilian (2021): Degrowth enthusiasm and the transformation blues of the East: reflections on the integration of post-socialist Transformational Experiences into the Transformational Postgrowth Discourse [Degrowth-Enthusiasmus und der Transformations-Blues des Ostens: Überlegungen zur Integration postsozialistischer Transformationserfahrungen in den transformatorischen Postwachstumsdiskurs.] In: Thomas, Michael & Ulrich Busch (Ed.), Streitfall Ostdeutschland. Grenzen einer Transformationserzählung, [Abhandlungen der Leibniz-Sozietät der Wissenschaften, 72], Berlin: trafo Wissenschaftsverlag, 229-256.
In this chapter, the authors have elaborated the central findings of their examination of the transformation experiences of Central and Eastern Europe and present them on the basis of six theses. In their view, it is indispensable for the degrowth debate to take up these experiences. The article traces the connections between post-socialist transformation and the debates on degrowth. The reason for this is a rather marginal engagement of the degrowth debate with the experiences of post-socialist transformations of Central and Eastern Europe. The basis is above all a series of events with the title "Degrowth Enthusiasm and the Eastern Blues", which the authors organized in the past years. The focus is on the following questions:
What can we learn from the transformation processes that state-socialist societies underwent towards capitalist societies?
What experiences and practices before and after the upheavals can potential degrowth societies build on?
To what extent can we take up the alternative system- as well as transformation experiences of the people in the "East" in order to use their potential in and for a social-ecological transformation?

Information on the book on the website of the publisher