Lilian Pungas (2020): "Caring dachas – Food self-provisioning in Eastern Europe through the lens of care", in: Nelson, A., Edwards, F. (Hg.): Food for Degrowth. Perspectives and Practices. Routledge, London & New York, 59-74.
Abstract zum Artikel: The notions of care and stewardship are at the root of all practices concerning food production – from ploughing the soil and sowing, to harvesting, cooking, preserving and composting. Yet, in contrast to cooking, cultivating land is often not perceived as 'classical' care work. Instead, care is mostly framed as an interhuman activity concerned with human sustenance and reproduction and therefore, associated mostly with household work, raising children and taking care of the elderly (Waerness 1984; Jochimsen 2003). Given that care remains a rather marginalised category, my goal in this chapter is to reinforce and enrich the discourse on care in degrowth scholarship by demonstrating how food self-provisioning (FSP) in both urban and periurban areas is grounded in ideas of care and stewardship, not only as an interhuman act, but also in connection to the soil and surrounding environment. In this sense, caring means 'reaching out to something other than the self' (Tronto 1993, 102) implying a deep empathy with other (living) beings, as well as being followed by some form of action.
Drawing on four of Tronto's (1993) expressions of care, I demonstrate that, despite seeming 'irrational' in economic terms, FSP is essentially a very rational act of care based on a deep understanding of interdependence and mutual vulnerability between humans and nonhuman nature (Gottschlich 2012). Care manifests as reciprocal 'caring about', 'care-giving' and 'care-receiving' with the surrounding environment, the gardener's community and oneself. In this case study, I explore how notions of care are expressed in FSP, and how they can all be recognised as predominant intrinsic motives behind this practice. In contrast, I display how promises and narratives of industrial agriculture fall into Tronto's fourth category ('taking care of') as rather 'masculine', 'public' and 'loud' manifestations of care. Tronto's (2013) subsequent, fth, dimension of care ('caring with') constitutes a less hierarchical relationship as well as a complex interdependence between both counterparts (care-giver and care-receiver) so might provide an additional (potentially more appropriate) framework for analysing care in FSP practice. However, in this chapter the focus lies on the other four dimensions of care for the sake of nuanced analysis of specic aspects and motives of care practice with regard to FSP.
Der Artikel ist erschienen im Sammelband Nelson, A., Edwards, F. (Hg.), 2021. Food for Degrowth. Perspectives and Practices. Routledge, London & New York.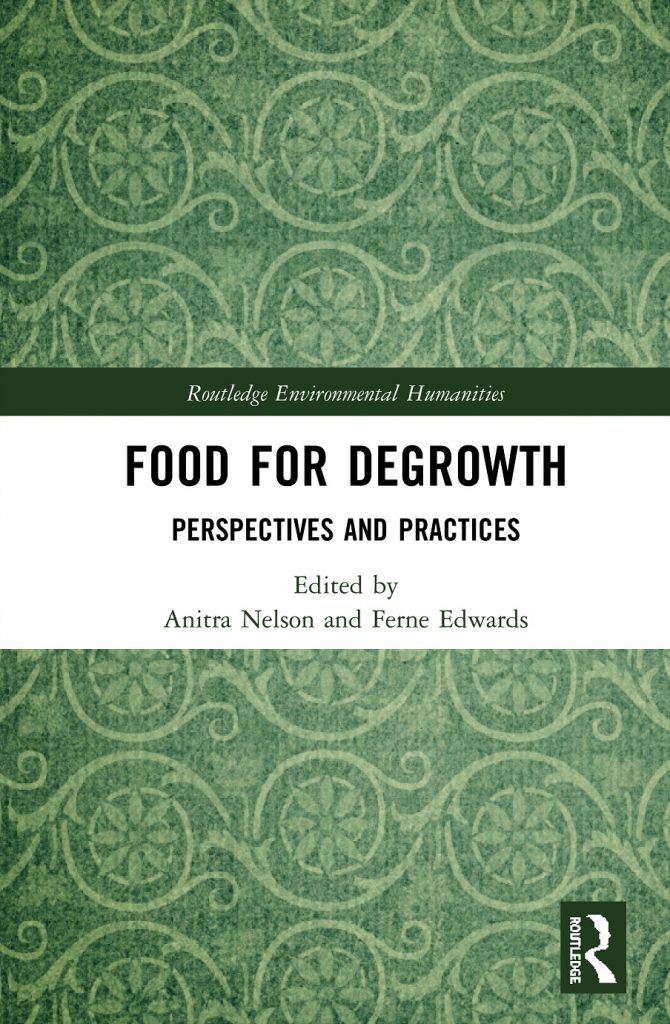 This collection breaks new ground by investigating applications of degrowth in a range of geographic, practical and theoretical contexts along the food chain. Degrowth challenges growth and advocates for everyday practices that limit socio-metabolic energy and material flows within planetary constraints. As such, the editors intend to map possibilities for food for degrowth to become established as a field of study.
International contributors offer a range of examples and possibilities to develop more sustainable, localised, resilient and healthy food systems using degrowth principles of sufficiency, frugal abundance, security, autonomy and conviviality. Chapters are clustered in parts that critically examine food for degrowth in spheres of the household, collectives, networks, and narratives of broader activism and discourses. Themes include broadening and deepening concepts of care in food provisioning and social contexts; critically applying appropriate technologies; appreciating and integrating indigenous perspectives; challenging notions of 'waste', 'circular economies' and commodification; and addressing the ever-present impacts of market logic framed by growth.
This book will be of greatest interest to students and scholars of critical food studies, sustainability studies, urban political ecology, geography, environmental studies such as environmental sociology, anthropology, ethnography, ecological economics and urban design and planning.
https://www.routledge.com/Food-for-Degrowth-Perspectives-and-Practices/Nelson-Edwards/p/book/9780367436469